Kamloop's Adventures and Neighborhoods
Kamloops is home to a lengthy list of activities for all kinds of explorers. Here's a list of the top 10 adventures to cross off your summer bucket list.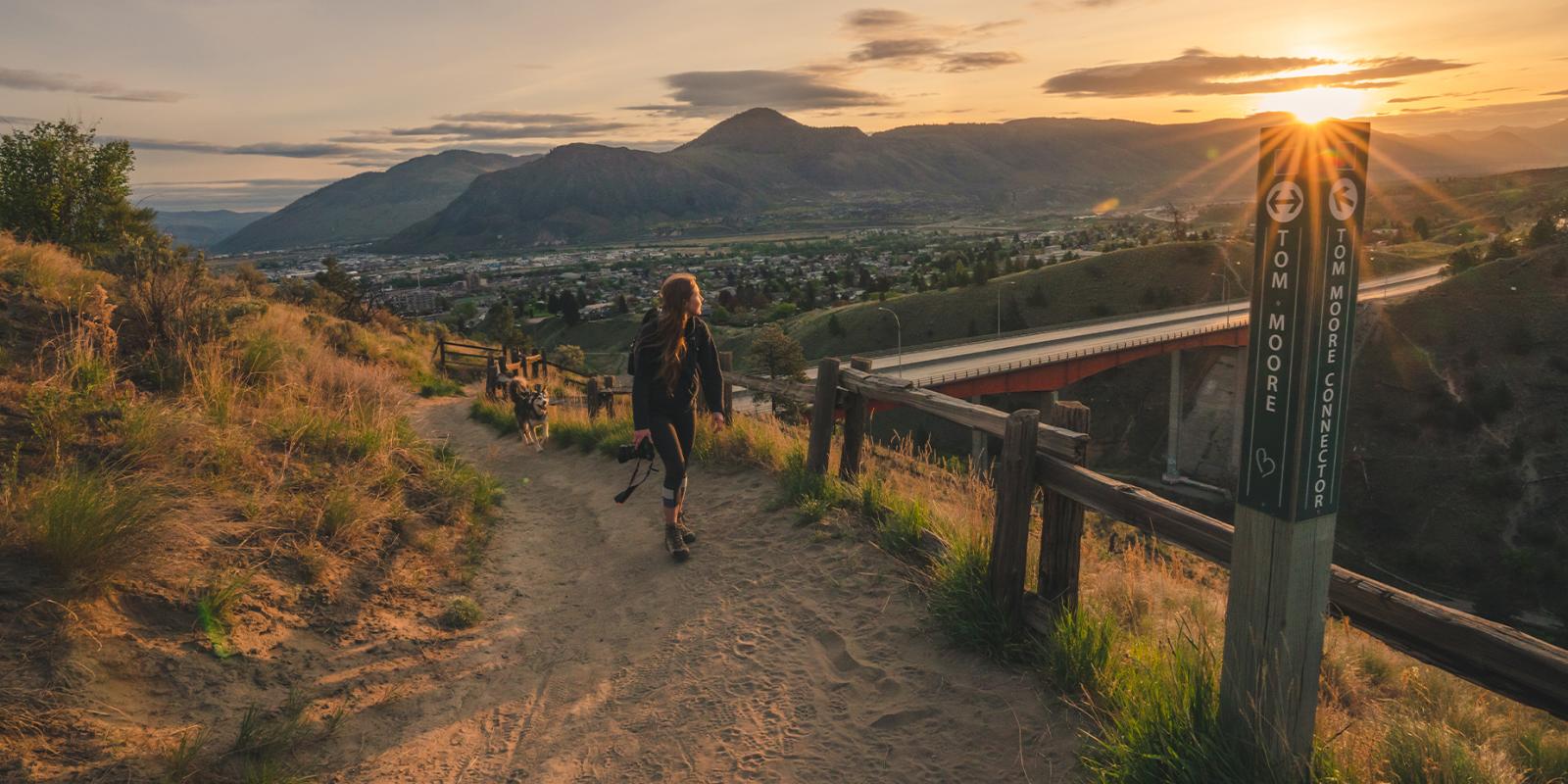 1. Travel Back in Time
Heritage RailwayTravel back in time with a trip aboard the Kamloops Heritage Railway, a 107-year-old heritage steam train.
2. Get Wet
Stand Up PaddleboardingKamloops has over 100 lakes within an hour drive from the city. Pack up the paddleboard, kayak or canoe and take in the scenery on one of our pristine lakes. Local favourites include Paul Lake, Lac le Jeune, and Heffley Lake. Need to rent? Take SUP lessons and rentals with Paddle Surfit on Heffley Lake or visit Bruker Marina on Kamloops Lake.
3. Ride Canada's Largest Municipal Bike Park
Bike RanchGet your heart racing while shredding trails in the birthplace of freeride mountain biking. Carve a few turns on perfect singletrack, ride into berms and along rolling hills of sagebrush. If downhill mountain biking is more your style, hit up the jump lines with a jump park at the bottom. One run is all it takes to see why this is the place where it all began.
4. Take a Hike
Hiking – Battle BluffThere are endless hiking trails in Kamloops that are great for all fitness levels. Hike through grasslands, vast canyons, and tall hoodoos that pique your imagination. Stroll along side picturesque lakes and sage-scented trails. Local tip: Head out towards sunset for a scenic, colourful view of the city that can only be described as something you see in a postcard.
5. Golf – Our Kind of Swinging
GolfHave you ever teed off a canyon? Is playing on an award-winning course a bucket list item? Kamloops offers a vast range of golfing terrain where you can swing with no crowds and the vibe is friendly. Play alongside rolling fairways and scenic views that will have you wondering whether you're playing around or taking a scenic stroll.
Kamloops Neighborhoods
Kamloops is one of the fastest-growing metropolitan areas in Western Canada. Surrounded by mountains, rolling hills, rivers, lakes, and vast natural landscapes, there is something sure to please everyone. Kamloops' has several proud residents, now just over 90,000, have helped build "Canada's Tournament Capital" into the great city it is today. With a dynamic and ever-growing economy and infrastructure, Kamloops is quickly becoming Interior BC's commercial, technological, manufacturing, educational, and tourism hub of tomorrow.
New and seasoned home buyers will enjoy the many different neighborhoods to choose from in the Kamloops real estate market, as well as the variety of houses, apartments, and townhouses available in our listings. Depending on what type of lifestyle you prefer, you could be right in energetic downtown Kamloops, or a more suburban setting close to beautiful parks or near top-rated schools. Regardless, you'll always be surrounded by Kamloops' natural beauty.
But don't take our word for it! Get to know Kamloops yourself by exploring popular neighborhoods like Sahali, Juniper Ridge, Pineview Valley, Dufferin & Southgate, Westsyde, Valleyview, Rayleigh, Sun Rivers, and Westmount, or discover the perfect place for you by using our interactive map of Kamloops. Let River City Realty guide you through our wonderful unique city! When you're ready, we're just a call or click away to answer any and all of your questions!
Pest Control in Kamloops
Kamloops is abundant with residential communities as well as economic opportunities. The hot and dry weather can drive many unwanted pests into comfortable Kamloops homes. Dangerous pests like rodents and the roaches can be harmful and frightening. Other pests like fire ants and roaches can damage property and landscape. Protect your home from pesky pests and call a recommended exterminator today.
Natural Pest Solutions
27-1990 Pacific Way
Kamloops, BC. V1S-1W3
phone 778-765-3337
https://mynaturalpestsolutions.com/ca/pest-control-kamloops/